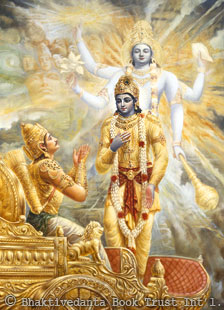 Krishna is the Supreme Person, the Godhead.
Krishna is the speaker of the Bhagavad-gita, recognized throughout the world as one of mankind's greatest books of wisdom. In the Gita, as it is also known, Krishna says repeatedly that He is God Himself, the source of everything.
Arjuna, to whom Krishna is speaking, accepts Krishna's words as true, adding that the greatest spiritual authorities of that time also confirm that Krishna is God. Traditions that follow in the line of these authorities have carried Krishna's teachings down to the present day.
Bhagavatam, a Major Contribution to the Understanding of God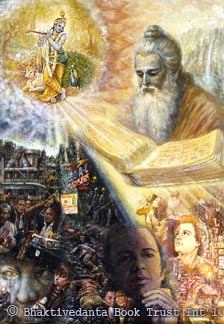 The Vedas deal with many subjects. They are the books of a highly developed civilization and cover all departments of knowledge. Among them, Srimad-Bhagavatam deals exclusively with subjects about God. Srimad means "beautiful" or "opulent," and Bhagavatam means "related to God." Hence, Srimad-Bhagavatam can be translated as "The Beautiful Story of God."
Srimad-Bhagavatam describes God, our relationship with Him, and the process for realizing that relationship. Its 18,000 verses give detailed accounts of God's names, forms, nature, personality, devotees, activities, residences, and much more.
In one of the opening chapters, the narrator explains that the sage Vyasadeva, who wrote portions of the Vedic literature and compiled the rest, felt dissatisfied despite his accomplishments. Under the order of his guru, he then embarked on writing Srimad-Bhagavatam, considered the ripe fruit of the tree of the Vedas.
God, a Transcendental Person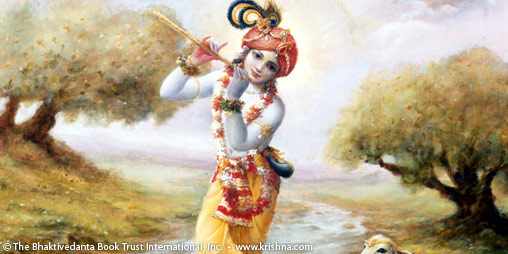 The personhood of Krishna is not an idea invented by human beings naively creating a God in their own image. Nor is personhood a limiting concept when applied to God, or the Absolute Truth. As the source of everything, Krishna naturally has His own personal identity, just as each of us does. The Vedas define God as the one supreme conscious being among all other conscious beings. He is infinite, we are finite, and He maintains us all.
Naturally, the best way to understand God is to learn from Him. In the Bhagavad-gita ("The Song of God"), Lord Krishna—a real, transcendental person—tells us that He is God and reveals many things about Himself.
"Unintelligent men, who do not know Me perfectly, think that I, the Supreme Personality of Godhead, Krishna, was impersonal before and have now assumed this personality. Due to their small fund of knowledge, they do not know My higher nature, which is imperishable and supreme."—Sri Krishna, Bhagavad-gita 7.24
A Complete Conception of God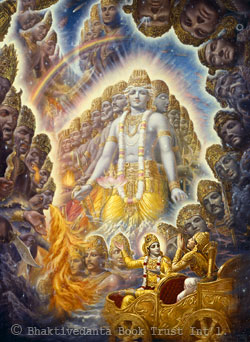 Many people have a hard time conceiving that God can be an actual person. But the Vedas tell us that God's unique personal identity is His highest aspect. Here's an analogy to show how God has three main features.
Looking at a mountain from a distance, we can make out only its size and shape. This is compared to comprehending God only as Brahman, His impersonal energy, which emanates from Him just as light shines out from its source.
As we move closer, we'll start to make out more of the mountain's characteristics—the colors of its foliage, for example. This is compared to understanding that God is within our hearts as Paramatma, or the Supersoul.
Finally, when we arrive at the mountain we can explore its soil, vegetation, animals, rivers, and so on. This is compared to understanding God the person, or Bhagavan.
Bhagavan is the source of Brahman and Paramatma and is therefore, in a sense, one with them. In the Srimad-Bhagavatam, Brahman, Paramatma, and Bhagavan are called the three phases of the Absolute Truth.
So,
Brahman –
The word "Brahman," or simply "Brahma," is used in a generic sense to mean spirit. God, the individual souls, and the spiritual effulgence of God are all referred to as Brahman (its Sanskrit root means "the greatest").
When the word is used in the context of Brahman, Paramatma, and Bhagavan—the three phases of the Absolute Truth—it refers to the impersonal effulgence of God (Bhagavan). Brahman is also called the brahma-jyoti, or "spiritual light." It is fills the spiritual world and, when transformed by God, becomes the primordial elements of the material world. Thus it is said to pervade everything.
Paramatma –
The Absolute Truth exists in three phases: Brahman, Paramatama, and Bhagavan. Paramatma is God's expansion as the Supersoul within our heart.
The Vedic sages distinguish between the Supersoul and the small individual soul. Both reside within the heart, but one is infinite, the other infinitesimal. The soul, the tiny spark of consciousness within, is our true self—eternal, blissful, and wise. But it is small, and so it may get lost in illusion and entangled in material life.
But the Supersoul, great and infinite, is ever beyond illusion.
Bhagavan –
Bhaga means "opulence" or "assets," and van means "one who possesses." Because God owns everything, He is called Bhagavan. The Vedic sage Parashara has defined Bhagavan as the one who possesses in full these assets: beauty, wealth, fame, strength, knowledge, and renunciation.
God, in His personal feature, has all the attributes found in other living beings—but His are all infinite, unlimited, unrestricted by the conditions of matter. That Supreme, the Personality of Godhead, Krishna, exists in His own realm, beyond all dualities and illusions.
Localized Paramatma and all-pervading Brahman are features of the original personality, Bhagavan.
Radha, Krishna's Female Counterpart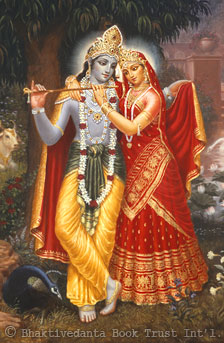 The complete conception of God includes God and His energies, which exist simultaneously with Him. The sum of Krishna's energies is Radha, His eternal consort. Like the sun and sunshine, Krishna and Radha are inseparable.
Radha embodies the totality of love for Krishna. Thus She is known as the personification of Bhakti, or loving devotion to God.
Loving God is our natural state, now dormant. By Her pure example, Radha is the beacon calling everyone to re-awaken full love for Krishna. She also dispenses mercy to help us achieve that goal.
Radha-Krishna are the male and female aspects of God. Known as the Divine Couple, together they are the full manifestation of God.
"Radharani is a tenderhearted feminine counterpart of the supreme whole, resembling the perfectional stage of the worldly feminine nature. Therefore, the mercy of Radharani is available very readily to the sincere devotees, and once She recommends such a devotee to Lord Krishna, the Lord at once accepts the devotee's admittance into His association." —Srila Prabhupada, Bhagavatam 2.3.23
What is God Like?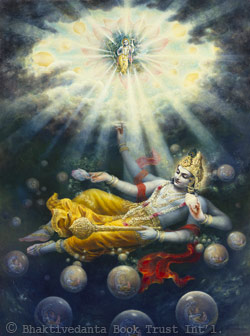 As with anyone in our experience, God is unique and complex. He's the transcendental Supreme Person, so there's infinitely more to know about Him than anyone else. The Vedas, especially Srimad-Bhagavatam, supply detailed information about Him.
Everything about God is fully transcendental, or spiritual. Because God is absolute, there is no difference between Him and His name, form, activities, qualities, and so on. Contact with any of these gives the same spiritual benefit, namely purification of our consciousness.
Krishna's form
The Vedas tell us that spirit is composed of eternity, knowledge (or consciousness), and happiness. Both God and we souls possess spiritual forms, which are free of the limitations of material form. For example, each part of a spiritual body can perform the function of any other part.
Krishna's body never changes; He is an eternal youth.
Unlike us ordinary souls, who may possess a material body, Krishna and His body are always identical.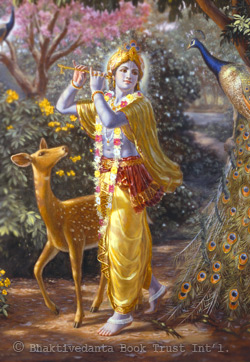 The Vedas describe Krishna in this way: He is a beautiful youth with a glowing complexion the color of rain clouds. He plays a flute, attracting the hearts of all. His cheeks are brilliant, His smiling enchanting. He wears a peacock feather in His curly black hair and a flower garland around His neck. His beautiful garments are the color of lightning. His toenails resemble the light of the moon.
Not only do the Vedas tell us what Krishna looks like, but pure souls have received His audience and written of their encounters. And fifty centuries ago, Krishna revealed His transcendental form to residents of India when He lived there for 125 years, sometimes showing and sometimes hiding His divinity.
"Ornaments caress Krishna's body, but His transcendental body is so beautiful that it beautifies the ornaments He wears. Therefore Krishna's body is said to be the ornament of ornaments. Enhancing the wonderful beauty of Krishna is His three-curved style of standing." –Chaitanya Charitamrita, Madhya 21.105
Krishna's Nature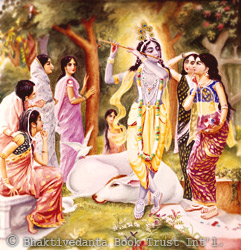 Krishna is loving by nature. In our original pure state, we love Him fully. In the exchange of complete love, Krishna considers His devotees greater than Himself. In the spiritual world He always stays with His devotees, and in this world He resides in every heart as the Supersoul. He wants His children in the material world to return to Him to enjoy with Him eternally.
Krishna is completely independent, and we cannot comprehend Him completely. He cannot be conquered by knowledge. But He can be conquered—and seen directly—through pure love.
God has feelings: He is satisfied when someone offers Him a nice prayer. Even though He is great, He can be moved by our love. He responds to us according to how we approach Him.
"I envy no one, nor am I partial to anyone. I am equal to all. But whoever renders service unto Me in devotion is a friend, is in Me, and I am also a friend to him." –Sri Krishna, Bhagavad-gita 9.29
Krishna's Qualities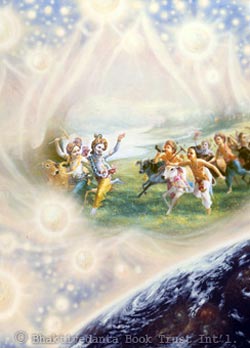 Understanding that God is spiritual, people sometimes conceive of Him as having no qualities. But although Krishna has no material qualities, He is full of unlimited transcendental qualities, and those qualities attract us to Him. Thus great souls who have given up everything cannot give up attraction to Krishna, and they dedicate their lives to finding Him.
The following qualities are considered especially attractive, and Krishna possesses them in full: beauty, wealth, fame, influence, knowledge, and renunciation.
Being God, Krishna has innumerable qualities, and seemingly contradictory qualities are resolved in Him.
Hearing of how Krishna shows these qualities can give us a sense of His greatness and of His power to attract all souls.
"Even if it were possible to count the atoms after smashing the earth into powder, still it would not be possible to estimate the unfathomable transcendental qualities of the Lord." –Srila Prabhupada, Bhagavatam, 1.16.26-30, Purport
Krishna's Activities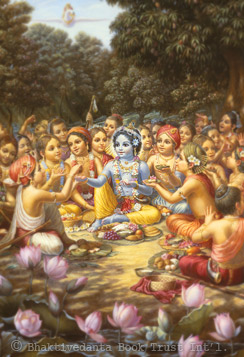 While Krishna's expansions and incarnations perform duties in the material and spiritual worlds, He Himself simply enjoys with His most intimate devotees in His transcendental home, known as Goloka. By His desire, His associates there don't even consider Him God. They enhance His enjoyment in five loving moods: neutrality, servitude, friendship, parental affection, and conjugal love. In other words, Krishna's life is filled with unending bliss in the company of His associates.
Krishna enjoys Himself with abandon, frolicking as a youth in expansive fields and forests with His friends and cows. He dances, He plays His flute, He relishes whatever activity strikes His fancy at the moment.
To entice souls in the material world to join Him in Goloka, Krishna comes to this world periodically, as He did 5,000 years ago, and shows His confidential, intimate loving exchanges with His ever-liberated devotees.
Krishna's Relationships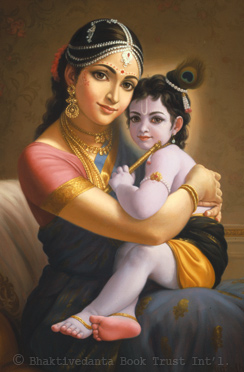 Krishna savors diversity from various kinds of pure, transcendental love. As we enjoy a variety of relationships in our families and society, so does Krishna, but all of His relationships are eternal, transcendental, and completely free of material contamination.
Each of Krishna's devotees interacts with Him in one of five primary relationships. In ascending order of intimacy, these five are neutrality, servitude, friendship, parental affection, and conjugal love. Each includes the primary sentiments of the ones before it, and then adds its own flavor. Pure love of God reaches its summit in romantic exchanges with Krishna.
Each devotee eternally feels one of these main moods predominantly:
Devotees in the mood of neutrality witness and support Krishna's pastimes by their presence as plants, animals, streams, and so on, as well as normally inanimate objects like houses—all of which are fully conscious in Goloka.
Devotees in the service mood run errands for Krishna, pack His lunch, wash His clothes, and perform other demonstrations of love for Him as the moment indicates.
Devotees in the fraternal mood serve Krishna by being His friends. They are sometimes boastful, considering themselves equal to Krishna. In His company, they herd cows and enjoy games in the beautiful country setting.
Devotees in the parental mood see themselves as Krishna's provider and protector. Krishna behaves with them like a dependent child. His mother cuddles Him, carefully prepares His meals, and thinks only of His protection. His father sees that He has all the comforts of a normal home.
Devotees in the conjugal, or romantic, mood offer service as Krishna's girlfriends, relating with Him in the intimacy of lover and beloved.
Krishna's Energies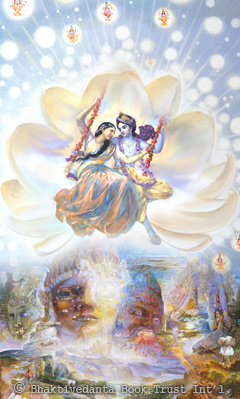 Although Krishna is invisible to us in our present state, we can perceive His presence through His energies, which are everywhere. Although innumerable, His energies fall into three primary categories.
Krishna's internal energy expands as the spiritual world in all its variety, including His ever-liberated associates there. The internal energy is eternal and full of knowledge and happiness. Presently beyond our perception, the spiritual world makes up most of reality.
Krishna's external energy consists of all that is matter: the material world, the laws of material nature, material bodies, and so on. The external energy is temporary and full of ignorance and suffering. It is inert by nature and must be moved by spirit. The material world is a tiny fraction of God's creation.
We finite spirit souls are expansions of Krishna's marginal energy. We can choose to live in the spiritual world or the material world. Or, to put it another way, we can be deluded by matter or illuminated by spirit.
Both the external energy (matter) and the marginal energy (we souls) can become fully spiritualized by contact with the internal energy through acts of devotion to Krishna (Bhakti yoga).
"The Supreme Lord has nothing to do, and no one is found to be equal to or greater than Him, for everything is done naturally and systematically by His multifarious energies." –Svetashvatara Upanishad 6.8
Krishna's Home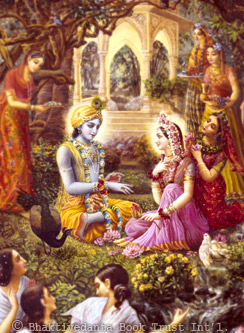 God owns everything, so in a sense His home is everywhere. But He Himself resides in the spiritual world in a place known as Goloka, the highest spiritual region. Reaching Krishna there is the highest achievement of human life.
Goloka is self-illuminated, and everyone there is liberated, shining with pure love for Krishna. Because Krishna is the center of everyone's heart, there is complete unity and peace. Goloka is built of transcendental gems that yield whatever one wants. The natural surroundings are beautiful, full of diversity and opulence. In Goloka, every word is a song, every step a dance, every moment new, fresh, and exciting.
"That supreme abode of Mine is not illumined by the sun or moon, nor by fire or electricity. Those who reach it never return to this material world." –Sri Krishna, Bhagavad-gita 15.6
Krishna's Names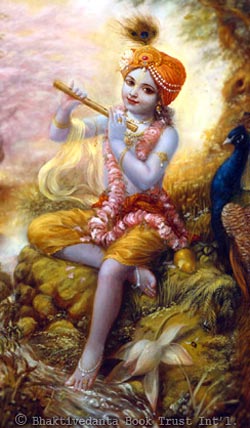 Just as we may have different names according to our various roles—Mommy, Dr. Jones, Sweetheart, Professor, Your Honor—so does God. And since God is unlimited, He has innumerable names.
The names can be generic terms, such as "God" or "the Absolute Truth."
They can be in Sanskrit, such as Govinda, Gopala, or Shyamasundara.
They can be in other languages, such as Yahweh and Allah.
The name Krishna, which means "the all-attractive One, " implies that each of us has an eternal relationship with God and we are always drawn either to Him directly or to His energies.
God and His names are identical, so by speaking them we enter His purifying company. Regularly reciting, singing, or chanting His names awakens our innate love for Him and gains us release from bondage to matter.
Krishna's Teachings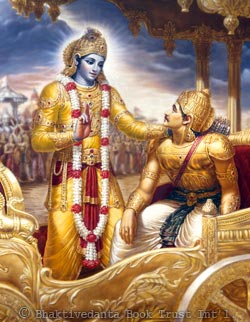 Krishna teaches in various parts of the Vedic literature, including large sections of the Srimad-Bhagavatam. The most famous collection of His words is the classic Bhagavad-gita, a refined treatise on great philosophical topics.
The Bhagavad-gita deals with five basic truths and their interrelation:
the nature of the finite souls
the position of the infinite soul, God
time, or the duration of existence
material creation and its laws
activities, or karma
In verse 9.34, Krishna gives the essence of all His teachings:
"Always think of Me, become My devotee, offer obeisances to Me, and worship Me. Being completely absorbed in Me, surely you will come to Me."
Krishna's Expansions: Other Forms of God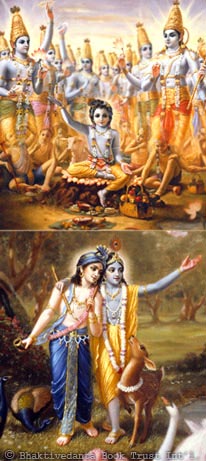 Krishna expands into innumerable forms, each of whom is Krishna Himself. Being all-powerful, He can expand Himself into forms with the same power and characteristics He possesses, without diminishing Himself in the least. Krishna is likened to the original candle that lights other candles of the same luminosity.
Krishna expands Himself to enjoy in a variety of ways through relationships with His innumerable devotees. Some of His expansions manage the material world, but Krishna in His original form remains aloof from the affairs of this world, ever enjoying with His associates in His spiritual land.
Krishna's first expansion is Balarama, His elder brother in Goloka Vrindavan. From Balarama come all other expansions.
Although Krishna produces many forms identical to Himself, He remains one undivided entity.
Activities of Krishna's Expansions
Krishna expands Himself for His own pleasure, which includes reciprocating with His devotees' desires and performing duties in the universal management.
Reciprocating with Devotees
Krishna in His original form in Goloka enjoys relationships in the mood of familiarity. But there are countless devotees whose pure love of God is filled with awe and reverence. For them, Krishna expands Himself in the spiritual realm as innumerable Narayanas, or Vishnus. Each is unique, yet each commands respect as the Supreme Lord. The part of the spiritual world where They reside is call Vaikuntha, "the place of no anxiety."
Universal Management
To carry on work in the material sphere, Krishna expands Himself or incarnates. Each expansion or avatar possesses some of Krishna's qualities in full. They appear with forms and emotions different from Krishna's, and They carry out specific activities. They are uniquely named according to these characteristics.
Krishna creates the material world in response to our desire to try to enjoy outside of our relationship with Him. Everything here is created, sustained, and ultimately destroyed by His expansions.
Krishna's Presence in this world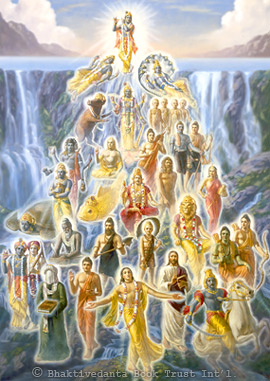 Though never touched by matter, Krishna is active in this world. He comes in many ways, including:
Krishna's Avatars
Krishna's Deity Form
Krishna as the Supersoul
Krishna's Representatives
For the benefit of the world, Krishna Himself descended 5,000 years ago and spoke Bhagavad-gita to His friend Arjuna. Krishna's life story is told in Srimad-Bhagavatam.
Krishna's Avatars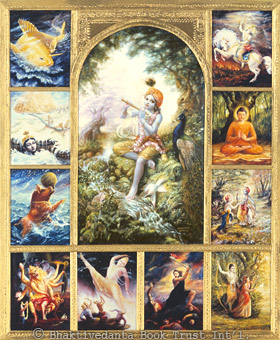 Krishna repeatedly comes to this world in various forms to perform specific functions. Such avatars distinguish themselves by performing extraordinary feats. They are known by references to them in the Vedas, including Srimad-Bhagavatam, which recounts histories of several prominent incarnations from the beginning of creation.
Incarnations
come to show spiritual practices for a specific age in cyclical time
come to give a glimpse of life in the spiritual world, and their actions become topics for discussion to liberate devotees
come to create and control the material worlds
take charge of the universe's secondary creation (by Brahma), its maintenance (by Vishnu), and its destruction (by Siva)
Krishna's names, as in the Hare Krishna maha-mantra, are also considered one of His primary avatars.
Krishna's Deity Form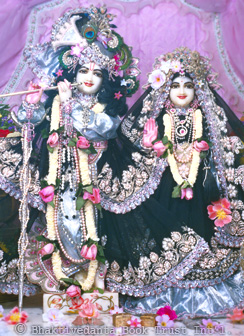 Krishna's form is spiritual; it is not made of matter. In our present condition, with our material eyes, we cannot see Krishna. So He descends in an apparently material form as the deity in the temple to allow us to see Him and serve Him directly.
For God there is no difference between material and spiritual energies, since they both come from Him and are under His control. He can use them as He sees fit. By Krishna's will, the apparently material form of the deity is actually spiritual.
In the Vedas, Krishna reveals how the deity is to be made and worshiped. When Krishna's form is created in this authorized way, He is personally present to accept service from His devotees.
Krishna states in Bhagavad-gita (9.26), "If one offers Me with love and devotion a leaf, a flower, fruit or water, I will accept it."
Krishna as the Supersoul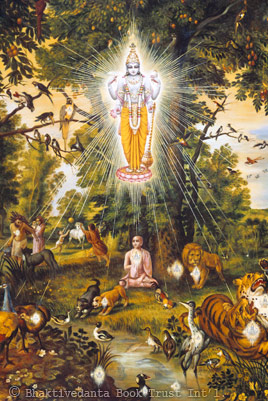 Although Krishna is very far away in His own abode, Goloka, He is also very near as the paramatma (Supersoul) in everyone's heart. The Supersoul expansion of Krishna is the friendly companion who accompanies us in whatever material body we get. He witnesses our thoughts and actions. Responding to our desires, he provides us various types of intelligence. He gives us both memory and forgetfulness.
We souls cannot do anything without the Supersoul's sanction. He helps us stay in this world if that's our wish. And when we decide to respond to His call, He will help us develop love for Him and leave this world for good.
"Man proposes, God disposes."
Krishna's Representatives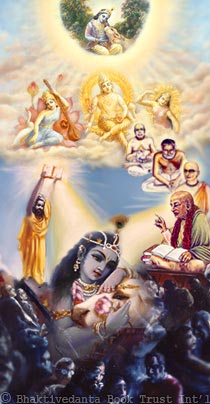 Universal Managers
Some souls are invested with extraordinary power to manage the universe. They are known as devas or demigods. Although they display godlike powers, they are not God. They are finite souls empowered by God to act on His behalf. Unseen by us, they control, among other things, the forces of nature.
Spiritual Agents
Throughout history, true lovers of God have acted as His authorized agents in this world. Some descend from the spiritual world, and others are empowered here on earth. According to time, place, and audience, they teach about God in varying degrees of complexity. Though their messages seem to differ somewhat, their goal is the same: to turn our attention back to God. By following their instructions, we can return to our rightful place in the spiritual world.
Seeing Krishna in His Creation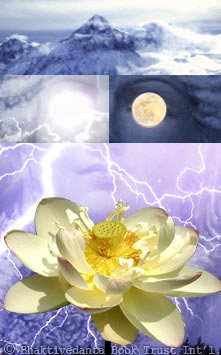 Being absolute, Krishna and His creation are in a sense identical. Thus, powerful aspects of the creation are partial displays of His divine energies and opulence.
In the Bhagavad-gita, Arjuna asks Krishna how He can be seen. Krishna replies by pointing to various prominent things within His creation. By hearing Krishna's responses and remembering Him in the ways He outlines, we can constantly think of Him. This purifying meditation qualifies us to return to Him.
Krishna says that His opulence is unlimited and thus we can see Him everywhere, from the great cosmic laws to the buds of a flower. Here's a sample of the many ways He suggests we can perceive His presence:
I am the taste of water
I am the light of the sun and moon
I am the consciousness of living beings
Of bodies of water I am the ocean
Of sacrifices I am the chanting of the holy names
Of immovable things I am the Himalayas
Of weapons I am the thunderbolt
With philosophical insight, we can even see God in the apparently bad things that happen to us. By constitution, we souls can be fully satisfied and happy only when we're united with Krishna. He sends the miseries of this world so that we'll realize that we don't belong here. And His scriptures and representatives help us to see our suffering here as God's mercy on us.
"I am the source of all spiritual and material worlds. Everything emanates from Me. The wise who perfectly know this engage in My devotional service and worship Me with all their hearts." –Sri Krishna, Bhagavad-gita 10.8
Krishna Comes as Sri Chaitanya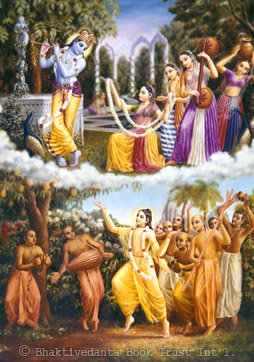 In a special appearance, Krishna personally came in A.D. 1486 as Sri Chaitanya Mahaprabhu and acted as His own devotee. Sri Chaitanya Mahaprabhu is Krishna Himself, saturated with the love for Him that Radha embodies. As the emblem of the perfect devotee of Krishna, He displayed feelings of the highest spiritual ecstasy.
Krishna taught Bhagavad-gita to liberate all souls, and He returned as Sri Chaitanya to show us how to live by the Gita's teachings.
Because spiritual realization is difficult in the present age, Krishna as Sri Chaitanya Mahaprabhu is especially liberal. He has made pure love of God attainable by the easy process of chanting His holy names, as in the maha-mantra: Hare Krishna, Hare Krishna, Krishna Krishna, Hare Hare/ Hare Rama, Hare Rama, Rama Rama, Hare Hare.
"In this way, assuming the sentiment of a devotee, He preached devotional service while practicing it Himself." —Chaitanya-Charitamrita, Adi 4.41
Sri Chaitanya's Life and Mission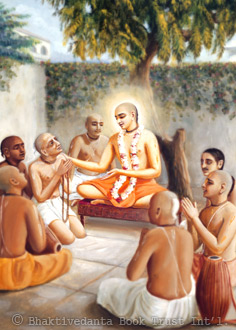 Sri Chaitanya Mahaprabhu (A.D. 1486-1534), also known as Lord Chaitanya, appeared in West Bengal, India, and showed us how to awaken our love for Krishna while living in this world.
He spent His first twenty-four years spreading the teachings of the Srimad-Bhagavatam and promoting the spiritual practice of chanting Krishna's holy names. Extremely influential, He won the hearts and minds of the greatest scholars of His day.
Sri Chaitanya's last twenty-four years, spent in the holy city of Jagannatha Puri, were devoted to tasting the ecstasy of pure love for Krishna.
Sri Chaitanya's Teachings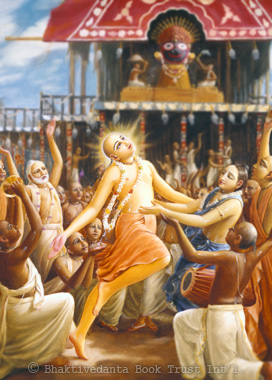 Sri Chaitanya taught that Bhakti, or loving devotion to Krishna, is both the most effective spiritual practice and the ultimate goal of all spiritual practices.
Because He is Krishna Himself, His teachings are identical with those of Krishna in Bhagavad-gita. His only written work is His Shikshastaka, or "Eight Instructions," a concise course in attaining spiritual perfection.
Sri Chaitanya's disciples codified His spoken teachings to them in their books. With copious references to the Vedic scriptures, these books establish the supremacy of Bhakti. Sri Chaitanya's teachings cover three main topics:
Knowledge of the soul's relationship with Krishna
The method of awakening that relationship
The awakened state of that relationship (pure love of God)
Sri Chaitanya also contributed immensely to theology by teaching that God is simultaneously identical to and different from His energies, including the material world and us finite souls.
Among the many books by His disciples, Krishnadasa Kaviraja's biography Chaitanya Charitamrita is both a fascinating telling of Sri Chaitanya's life and a rich blend of deep devotion and robust theology.
The Best Kept Secret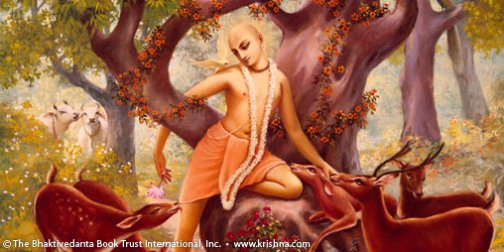 In the late 15th century, the European kings sent their boldest explorers in search of new routes to treasure-filled India. Many returned home on ships laden with silks and spices. But they missed the real treasure of India just then being profusely distributed by the great avatar Sri Krishna Chaitanya.
Lord Chaitanya pioneered a great social and spiritual movement that continues to spread its profound influence worldwide. He transformed India in four respects: philosophically, by defeating the greatest philosophers of his day; socially, by opposing the rigid caste system; politically, by organizing India's first civil disobedience movement against repressive government; and, most important, spiritually, by teaching and demonstrating the science of love of God, bhakti-yoga.