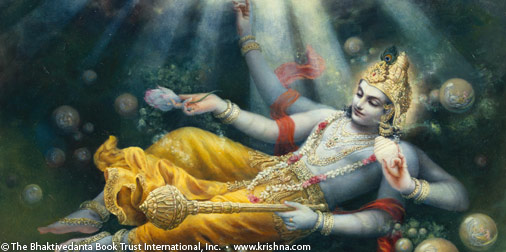 Most souls live happily with Krishna in the spiritual world. But some rebel against His authority and want to try to enjoy outside their relationship with Him. To fulfill—and reform—this unnatural desire, Krishna creates the material world.
By constitution we spiritual souls belong in the spiritual world. Like fish out of water, we can never find lasting happiness in the material world. Here, we accept bodies subject to disease, destruction, and countless other miseries. Because we are here by choice, we cannot hold Krishna responsible for the suffering we must endure. Besides, in human life we always have the chance to give up our rebellious nature, cultivate our innate love for Krishna, and return to our home in the spiritual world.
Because of His intense love for each of us, Krishna does not abandon us here. As the Supersoul, He accompanies us in whatever body we accept. And He sends scriptures and spiritually awakened teachers to reveal our true, spiritual identity and lead us home.
At present, the material world is the only world we know. Science tells us that we're on one planet among many, in one galaxy among many, in one solitary universe of incomprehensible size and complexity.
The Vedas tell us more. They say that this universe is one among countless others, each at least as big and complex as this one.
The Vedas also tell us that the material world has a creator, and He created it with a purpose. In pursuit of that purpose, He has placed living beings on every planet in every universe, most in forms now imperceptible to us.
"This material nature, which is one of My energies, is working under My direction, O son of Kunti [Arjuna], producing all moving and nonmoving beings. Under its rule this manifestation is created and annihilated again and again." –Sri Krishna, Bhagavad-gita 9.10
Origin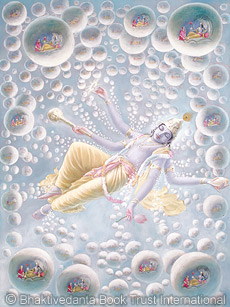 The Bhagavad-gita explains that the underlying, absolute cause of all causes is an unlimited conscious being and that the manifestations of material energy are exhibitions of that being's conscious will and plan.
The idea of a creator agrees with our experience, because we see that everything develops by someone's plan. The more complex the plan, the more intelligent the person who developed it. Krishna's intelligence is unlimited, surely beyond our comprehension. As tiny expansions of Krishna's energy, we can create something small. But He can easily create the whole material world.
"I meditate upon Lord Sri Krishna because He is the Absolute Truth and the primeval cause of all causes of the creation, sustenance and destruction of the manifested universes. He is directly and indirectly conscious of all manifestations, and He is independent because there is no other cause beyond Him." —Vyasadeva, Srimad-Bhagavatam 1.1.1
Krishna's expansion Maha-Vishnu creates the material world. From Him the innumerable material universes come forth and are withdrawn in due course.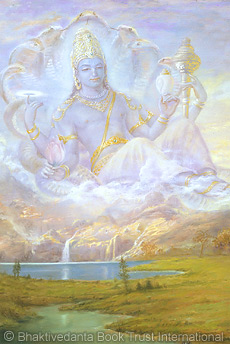 Maha-Vishnu is the first of the Purushas ("controllers," also known as Vishnus), incarnations of Krishna for the creation of the material universe.
Maha-Vishnu creates innumerable universes. He lies down in the Causal Ocean on the bed of Ananta Shesha and initiates the creation by glancing at His personified material energy, Maya.
Causal Ocean is the substance (originally a cloudlike darkness in one corner of the spiritual sky in Vaikuntha) from which the material world is created. Material nature resides eternally within the Causal Ocean. To initiate the material creation, Maha Vishnu glances at Material Nature, thus agitating her to begin expanding the material elements. Viewed from inside the material universe, the same Causal Ocean appears like a surrounding shell of water and is named the Viraja River.
From Maha-Vishnu come the other two Vishnus: Garbhodakashayi Vishnu and Kshirodakashayi Vishnu.
Maha-Vishnu creates the innumerable universes: Garbhodakashayi Vishnu enters into each individual universe to oversee it; and Ksirodakashayi Vishnu enters into each atom in every universe and sits with us souls in our hearts as Supersoul.
While We're Here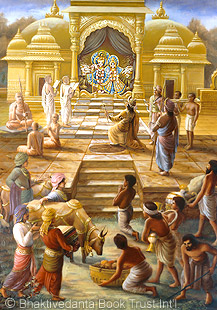 The Vedas stress that the advanced intelligence that comes with the human form of life is best used to secure our return to the spiritual world. As we souls take on, and identify with, bodies in other species, we experience all types of sensual enjoyment. To pursue those same pleasures now is a waste of our human intelligence.
By accepting guidance from the Vedas and enlightened teachers in the Vedic tradition, we can learn how to spiritualize our lives by using them in service to Krishna.
Our task is to awaken our awareness of our relationship with Krishna, to find our true, spiritual identity. The practices of Bhakti yoga achieve this by engaging us in essentially the same kinds of activities we perform in the spiritual world.
When Krishna sees that we've awakened our innate love for Him, He responds by releasing us from His material energy and allowing us entry back into His spiritual world.
Components of the Material World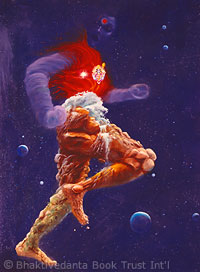 The Vedas describe the material world as the field of activity for the soul and divide matter into twenty-four basic components. The interaction of these twenty-four constitutes everything that goes on in the material world. We souls are transcendental to these interactions but are affected by them because we identify with the material bodies we inhabit.
Krishna is the source of all these components, and by reconnecting them to Him through devotional service, we can spiritualize our field of activity. This is the essence of the practices of Bhakti yoga.
The five great elements:
Earth (solid)
Water (liquid)
Fire (radiant energy)
Air (gas)
Ether (space)
The subtle elements:
Mind
Intelligence
False ego
The three modes of material nature: goodness, passion, ignorance
The five working senses:
Voice (speech)
Legs (walking)
Hands (grasping)
Anus (evacuation)
Genitals (reproduction)
The five knowledge-gathering senses:
Eyes (seeing)
Ears (hearing)
Nose (smelling)
Tongue (tasting)
Touch (feeling)
The five objects of the senses:
Form
Sound
Scent
Taste
Touch
Primary and Secondary Creation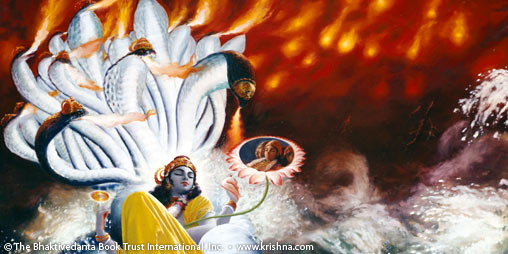 Primary Creation
Once we accept the principle that the creation requires a creator, we can understand that the only way to learn about how He created the world is to hear from the creator Himself. In the Srimad-Bhagavatam, Krishna explains in detail how He, in His expansion as Maha-Vishnu, creates the material world from His own energy.
First, Maha-Vishnu transforms some of His spiritual energy into the primordial material elements. He then glances over them, activating them with the energy of time, which underlies all transformations in the material world. Matter then evolves from subtle elements (sound, form, touch, etc.) to gross (earth, water, fire, etc.)
Sound, the core element in creation, is considered the most powerful. By hearing and speaking spiritual sound—received from the spiritual world through the Vedas—we souls can achieve freedom from the material creation.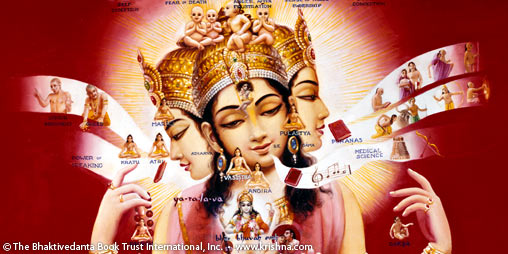 Secondary Creation
Krishna gives us material bodies because of our desire to enjoy separately from Him. But material bodies are foreign to us, so we need help accepting them. For that purpose, Brahma first creates fives types of ignorance that cover our intelligence:
forgetfulness of our identity as a soul
thinking the body to be ourselves
the mad pursuit of material enjoyment
anger
considering the death of the body to be our extinction
After God (Maha-Vishnu) supplies the basic ingredients, He empowers Brahma, the first created being, as a secondary creator and universal manager.
Brahma creates all the species of life, which are the bodies for us souls to inhabit, as well as all the planets, upon which we reside.
Planetary Systems
The Vedas tell us that life exists everywhere in creation. Scientists looking for life on other planets may never find it, because their criteria for life-supporting environments are too restrictive. Life, being spiritual, doesn't depend on a certain mix of chemicals. The soul, or the life force, can exist within subtle forms imperceptible to scientific instruments. (We have some experience of this at night, when we exist in a subtle dream world.)
The total material energy contains many universes, which float in a relatively small space in the unlimited spiritual sky. Each universe is shaped like an egg, the shell being made up of seven elemental layers, each ten times thicker than the previous one, beginning from the innermost.
Each universe contains millions of planets, situated within fourteen systems, with earth in the middle region. The planets above the earth are realms of heavenly pleasure and are reached by souls who properly execute their religious duties as human beings on earth. The lower planets are places of darkness and are the destination of materialistic persons who reject the guidance of revealed scriptures.
The Vedas state the earth is the best place for spiritual advancement because it is relatively free of the extreme happiness or suffering found on other planets, making it suitable for focusing on spiritual thoughts.
Universal Management
The first tier of universal management consists of three executive heads: Brahma, Vishnu, and Shiva. Each is such a powerful controller that they are sometimes given equal status within Vedic literature—and inaccurately called "the Hindu Trinity" by Western scholars. The Srimad-Bhagavatam explains that Vishnu is God, or a full expansion of Krishna, whereas Brahma is a finite soul, and Shiva is in a category of his own, slightly less than God. Both Brahma and Shiva are servants of Vishnu, empowered by Him for universal work.
Vishnu is in charge of primary creation, as well as maintenance and the mode of goodness
Brahma is in charge of secondary creation and the mode of passion
Shiva is in charge of destruction and the mode of ignorance
Working under these powerful controllers are many demigods, or devas, empowered to fulfill universal duties. As departments within a city government manage the delivery of water and electricity, the devas oversee the material world.
We should not mistakenly worship the devas as God. We are indebted to them, but they supply life's necessities on God's behalf using His energies, and we can pay our debt to them by worshiping Him. By satisfying Krishna, all His servants are satisfied.
Time
Although one might assume that time is a fundamental aspect of reality, it is in fact a feature only of the material world. Time as we know it does not exist in the spiritual world. As difficult as it is to comprehend, in the spiritual world things take place even though there is no past or future.
Without time, nothing happens in the material world. As the most powerful force in the world, time is considered Krishna (as He says in the Bhagavad-gita). Time controls everything, and Krishna controls time. With the rising and setting of the sun, everyone's life is diminished by the influence of time.
Time is relative. A year in higher planetary systems is much longer than a year on earth, and beings on higher planets live for extremely long periods of time by our estimation.
Time on earth moves in cycles of four eras, each era lasting hundreds of thousands of years. In the first era, known as Satya, human civilization is enlightened, but things begin to degrade in the next two eras, Treta and Dwapara. When we reach the Kali era (which we are currently in), civilization sinks more and more into chaos and ignorance. At the end of the Kali era, a partial universal destruction occurs, and a new cycle begins again with Satya. The cycle repeats itself one thousand times in each day of Brahma, the engineer of the universe.
The Vedic conception of time and history is thus much more expansive than that of the West, giving us a startling image of just how fleeting is our life in the human form. The Vedas stress that we should use every precious moment of human life for self-realization.
Karma
Karma is the cosmic law of action and reaction. Under its control we souls in the material world receive good or bad results according to each act we perform.
Karmic reactions include not only things that happen to us, but such things as our health, wealth, intelligence, physical appearance, and social status, as well as our personalities and inclinations. While we have some freedom to choose our current acts, our choices are influenced by our natures, or personalities, which have developed from our previous actions. For example, good choices tend to make us good persons who make further good choices.
The law of karma begins to act upon us when we desire to enjoy separately from Krishna, and it locks us into an endless cycle. Each action begets a reaction that begets another action, and so on. Whether the reactions are good or bad, we must repeatedly accept new bodies in order for the reactions to play out. And each lifetime in a material body means unavoidable miseries, such as disease, old age, and death.
While the Vedas give directions for assuring good reactions, they tell us that the only truly beneficial course of action is to perform spiritual acts that can gain us freedom from the bonds of karma. Spiritual acts are acts for the service of Krishna and are the essence of Bhakti yoga. They awaken our innate love for Krishna, destroying our desire to enjoy separately from Him, which is the root of our karmic bondage.
The Three Modes of Nature
The Vedas describe three forces, or modes, whose influence pervades the universe: goodness, passion, and ignorance. "Mode" is a translation of the Sanskrit word guna, which literally means "rope," implying that goodness, passion, and ignorance are the ropes that bind us souls to the material world. These three modes, or qualities, underlie everything we see, hear, taste, touch, and smell. Permutations of these qualities make up the world, mixing like the primary colors to produce countless variations.
The mode of goodness controls virtues and qualities such as joy, wisdom, and altruism; the mode of passion controls greed, anger, lust, ambition, and frustration; the mode of ignorance controls laziness, delusion, and apathy. Goodness clarifies and pacifies; passion confuses and impels; ignorance obscures and impedes.
Krishna, as the creator of the modes, is naturally above them. But the modes bind us finite souls to the body through conditioning. Once we understand how the modes work and discover what lies beyond them, we can become free of conditioning and devote our pure mind to the service of Krishna.
The fourteenth chapter of the Bhagavad-gita outlines the general characteristics of the modes, and the seventeenth chapter teaches how to perceive the modes in types of worship, food, sacrifice, austerities, and even charity. By analyzing how the modes affect people, the Bhagavad-gita helps us understand distinct personality types.
The Bhagavad-gita mainly discusses how the modes influence a person's character, behavior, and approach to life. For example, if goodness predominates, one will aspire for (and generally achieve) long-term happiness, even if one must accept temporary inconveniences. The person overtaken by passion is usually satisfied by short-term happiness and doesn't expect much more out of life. And the person dominated by ignorance rarely achieves happiness at all.
Krishna says that we can break free of the stranglehold of the three modes only by taking shelter of Him.
Reincarnation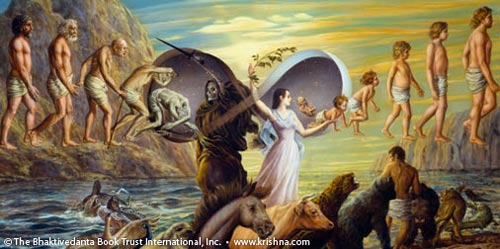 The eternal soul passes from boyhood, to youth, to old age, and then eventually into another body at the time of death.
The Vedic literature tells us that we souls can inhabit any of millions of forms of life, including aquatics, plants, insects, reptiles, birds, animals, and human beings. At the time of death, we leave one body and enter a new one. That is called reincarnation.
We can observe that we change from one body to another in our own lifetime. Your body at birth is completely different from your adult body. Yet throughout these changes, you—the conscious self—remain the same. Similarly, the conscious self remains the same from one body to the next in the cycle of reincarnation.
Our present body is the result of a long series of actions and reactions in previous lives. The law that governs this is known as karma: every action has a reaction. Our previous actions have produced our present body, and our current actions will determine our next body.
Krishna, through the agency of material nature, provides all these bodies for us in response to our desire to enjoy in the material world. Yet all species of life also share in the miseries of the material world. So for us eternal souls, moving from body to body means experiencing every imaginable kind of suffering. Only in the human form can we free ourselves from the vicious cycle of reincarnation—by reestablishing our eternal, loving relationship with Krishna.