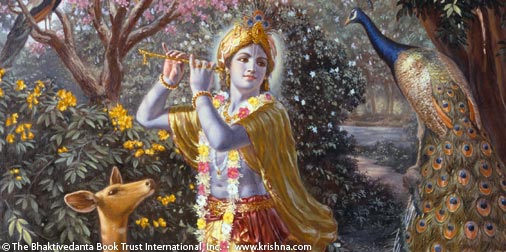 The goal of human life is to re-awaken our original pure love for God, Krishna. We souls exist to have an intimate loving relationship with Him. We can never be happy by rejecting that relationship and denying our true nature.
The things we do in this world indicate our true, eternal nature. We have to love; it's unavoidable. Having turned away from Krishna, we try to fulfill our need to love and be loved by searching for ideal relationships in this world. But exchanges of love here are never perfect and cannot last forever.
Awakening pure love for Krishna is perfection. Nothing else will satisfy us. Everything that exists in the material and spiritual worlds is meant to support our relationship with Krishna. Human life is a chance for us to reestablish that relationship. That endeavor should be the focus of our lives.
Because love includes service, pure love for God is called pure devotional service, or Bhakti. The ways to awaken Bhakti are the substance of the practice of Bhakti yoga.
Characteristics of Pure Love
Pure love for God is rare in this world because it requires that one desire nothing for oneself. A person who has awakened his or her pure love for Krishna does not ask Krishna for anything other than the privilege of serving Him. Pure devotees of Krishna don't even worry about returning to the spiritual world because they are fully satisfied in serving Krishna anywhere.
Loving Krishna is our true nature, and in the transcendental happiness of that love all the miseries of life disappear. Because Krishna is supremely captivating, loving Him is ever-fresh.
Pure love for Krishna is so powerful that it conquers Krishna Himself. As shown in Krishna's relationships, revealed in the Vedic scriptures, in the intimacy of love His devotees often tell Him what to do, and He spontaneously obliges.
A pure devotee of God naturally has an ideal character. Because pure devotees love God completely, they love everything in His creation, understanding that it is dear to Him. They see all living beings—in every species—as children of God and strive not to harm them. In fact, they dedicate their lives to the welfare of all creatures by working for their spiritual awakening.
How To Achieve Pure Love
Pure love for Krishna is already within us. And those who have awakened their love for Krishna can awaken it in others.
Once we become convinced of the need to awaken our innate love for God and decide to pursue it as our goal in life, we must take guidance from a pure devotee who will engage us in the practices of Bhakti yoga. These practices center on chanting Krishna's holy names and entail various ways of serving Krishna. By serving Krishna, our hearts become purified and our love for Him begins to flow naturally. Ultimately, it is our intense desire to reunite with Krishna that inspires Him to reveal Himself to us and fully draw out our love.
Putting Other Goals in Perspective
There are as many goals as there are people, but all goals other than pure love of God can be put into three categories:
people seek material enjoyment (even within the context of religion)
people seek salvation, or liberation
people seek perfections of mystic or subtle powers
Each goal has varying degrees of benefit. But each goal, along with its benefits, is material, temporary, and based on selfish desires, no matter how enticing or seemingly lofty.
While living in the material world, we naturally pursue temporary goals. But when love of God gradually begins to awaken within the heart, we souls naturally lose interest in temporary things that offer us no ultimate benefit.