Five hundred years ago Sri Chaitanya Mahaprabhu, the most recent incarnation of Krishna, taught by His own example that one can live the essence of Bhagavad-gita by chanting Krishna's holy names: Hare Krishna, Hare Krishna, Krishna Krishna, Hare Hare/ Hare Rama, Hare Rama, Rama Rama, Hare Hare.
Sri Krishna and Sri Chaitanya Mahaprabhu both taught Bhakti yoga, the spiritual practice of connecting with God through devotional service to Him. Based on Their teachings, in 1966 A. C. Bhaktivedanta Swami Prabhupada, referred to as Srila Prabhupada, founded the International Society for Krishna Consciousness (ISKCON) in New York City.
Srila Prabhupada and his disciples popularized the chanting of the Hare Krishna maha-mantra in the 1960s and 1970s, and it spread to countries around the globe. Though the International Society for Krishna Consciousness is the legal name for the movement Prabhupada started, most people know it as the Hare Krishna movement.
Basic Philosophy
The Vedas say we are all spiritual beings—eternal, blissful, full of knowledge—and so is God. The difference is God is infinite and we are not. In this world, everyone mistakenly thinks their temporary body is their real self.
We belong in the spiritual world with God (one of Whose names is Krishna, "the All-attractive one"). But until our pure love for Him awakens—and we no longer want to try to enjoy separately from Him—we must stay in the material world.
We need to understand the problems of life in the material world, such as:
We suffer from old age, disease, and eventually die
The reactions to our activities, or karma, force us to take repeated births in various species.
Whatever sensual pleasure we do get is temporary and ultimately disappointing.
Our life is perfect once we find a teacher, or guru, who can show us how to purify our consciousness and reestablish our love and service attitude for God. The easiest (and most highly recommended) method of self-purification is to chant the holy names of God—the Hare Krishna mantra—in the company of like-minded spiritual seekers, or devotees of Krishna.
Basis of the Teachings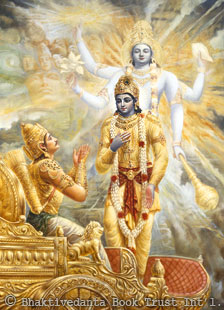 At the beginning of creation, Krishna spoke the knowledge of the Vedas, which guides souls on the journey of life and ultimately back to their spiritual home.
From time to time that knowledge becomes diluted or changed. To revive it, Krishna came to this world 5,000 years ago and spoke Bhagavad-gita to His friend Arjuna. The Gita contains detailed teachings on the supreme, infinite soul (God), the finite souls, karma (work in this world), time, and creation.
After Krishna left this world Vyasadeva compiled Srimad-Bhagavatam, from the ancient oral tradition originating from Krishna. The Srimad-Bhagavatam is a treatise of 18,000 verses, explaining in detail the science of God.
Five hundred years ago, Krishna came again, this time in the guise of His own devotee as Sri Chaitanya Mahaprabhu. He taught that the easiest method for returning to God is to chant His holy names, especially by chanting the maha-mantra: Hare Krishna, Hare Krishna, Krishna Krishna, Hare Hare/ Hare Rama, Hare Rama, Rama Rama, Hare Hare. By His life, Sri Krishna Chaitanya demonstrated how a devotee of Krishna lives in this world and progresses to the next.
Bhagavad-gita, Srimad-Bhagavatam, and the teachings of Sri Chaitanya Mahaprabhu form the core of the Bhakti teachings, the essence of which is to return to our relationship with God and live with Him eternally.
History of the Bhakti Tradition

Vedic knowledge is carefully passed down from guru to disciple in spiritual lineages called sampradayas. India's sampradayas carefully protect their traditions of deep spirituality, since any knowledge which is not received from an authorized sampradaya lacks real spiritual benefit.
The Hare Krishna movement strictly adheres to the sampradaya system. Srila Prabhupada, the movement's founder, represents the Brahma-Madhva-Gaudiya sampradaya, which began with Lord Krishna and includes His most recent descent as Chaitanya Mahaprabhu.
The lineage is known as the "Brahma sampradaya" because at the beginning of creation Lord Krishna Himself instructed Brahma—the first created being, and architect of the universe.
The line later became known as the "Brahma-Madhva sampradaya" because of the prominent teacher Madhvacharya (A.D. 1238-1319).
Still later, the line became known as the Brahma-Madhva-Gaudiya sampradaya, after the line was joined by Sri Chaitanya (1486-1534), who appeared in the region of Gauda (Bengal) and gave the tradition new life.
The members of the sampradaya—up to Srila Prabhupada, the founder and spiritual preceptor of the International Society for Krishna Consciousness—are listed below:
Lord Krishna
Brahma
Narada
Vyasa
Madhva
Padmanabha
Narahari
Madhava
Akshobhya
Jaya Tirtha
Jnana-sindhu
Daya-nidhi
Vidya-nidhi
Rajendra
Jayadharma
Purushottama

Brahmanya Tirtha
Vyasa Tirtha
Lakshmipati
Madhavendra Puri
Ishvara Puri (Nityananda, Advaita)
Sri Chaitanya
Rupa (Svarupa, Sanatana)
Raghunatha, Jiva
Krishnadasa
Narottama
Vishwanatha
(Baladeva) Jagannatha
Bhaktivinoda
Gaurakishora
Bhaktisiddhanta Sarasvati
A.C. Bhaktivedanta Swami Prabhupada
History of the Hare Krishna Movement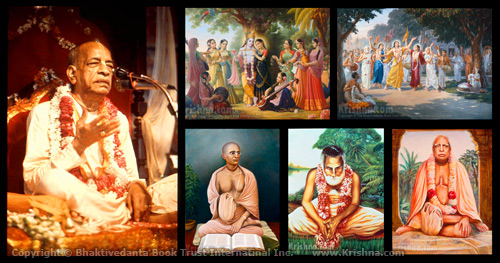 The International Society for Krishna Consciousness (ISKCON), commonly known in the West as the Hare Krishna movement, is a monotheistic branch of the Gaudiya Vaishnava spiritual tradition that dates back to Krishna Himself—the Supreme Personality of Godhead who appeared on Earth and spoke the Bhagavad-gita over five thousand years ago. ISKCON follows Krishna's teachings as revealed in the sacred Vedas, including Bhagavad-gita and Srimad-Bhagavatam (aka Bhagavata Purana).
Essential practices of Krishna Consciousness involve the chanting of God's holy names—among several processes of devotional service—to bring about lasting happiness and peace in society by reviving our loving relationships with God.
525 years ago Krishna appeared as Sri Chaitanya Mahaprabhu in the form of His own devotee to establish the congregational chanting of God's holy names, sankirtana, as the easiest and most sublime spiritual practice for this age. Sri Chaitanya Mahaprabhu popularized the chanting of the maha-mantra, comprised of sacred names of God: Hare Krishna, Hare Krishna, Krishna Krishna, Hare Hare/ Hare Rama, Hare Rama, Rama Rama, Hare Hare.
In 1965, the prominent emissary of India's spiritual teachings, His Divine Grace A.C. Bhaktivedanta Swami Srila Prabhupada Prabhupada (1896-1977) brought Sri Chaitanya's movement to the West and founded ISKCON in New York City under seemingly humble circumstances. Here's a brief timeline of ISKCON's recent history.
In 1965, at the age of 69, A.C. Bhaktivedanta Swami Prabhupada left the holy land of Vrindavan, India, to spread Krishna's message in the West on the order of his spiritual master. He arrived in Boston by freight ship, carrying $7 in change and a trunk of books about Krishna. For the first year, he struggled alone, booking speaking engagements at yoga studios, YMCAs, and bohemian artists' lofts, while living in the homes of people he met who sympathized with his cause and would give him temporary residence. He would often take a small bongo drum and sit under a tree in a public park to chant the holy names of Krishna. Curious onlookers would gather. Some joined in the chanting. Some began to take an active interest in his mission.
By 1966 Srila Prabhupada was living in New York City, in Manhattan's then impoverished Lower East Side, and had begun regular weekly lectures on Bhagavad-gita, along with public chanting sessions, kirtan, in Tompkins Square Park. That same year, he incorporated ISKCON in New York City, envisioning that soon there would be centers around the world.
From 1966 to 1968, as more and more spiritual seekers became attracted to Krishna consciousness, he opened ISKCON temples in New York, Los Angeles, San Francisco, Seattle, Montreal, and Santa Fe, New Mexico.
In 1967, the first Ratha-yatra festival outside of India was held in San Francisco. Ratha-yatra is one of the oldest and largest annual religious festivals in the world, performed each year in the holy city of Jagannatha Puri on the East Coast of India. Several million people line the streets to pull giant 3-story chariots carrying deity forms of Lord Krishna through the streets, accompanied by festive chanting of His names. This festival is now held by members of ISKCON in cities around the world.
From 1969 to 1973, temples opened in Europe, Canada, South America, Mexico, Africa, and India. In 1970, the Governing Body Commission, ISKCON's managerial body, was established to oversee the growing society.
From 1970 to 1977, ISKCON built major centers at the holy pilgrimage sites of Mayapur and Vrindavana, India, and a large temple in Mumbai.
In 1972, Srila Prabhupada founded the publishing house Bhaktivedanta Book Trust (BBT), now the world's foremost publisher of books on Krishna consciousness, or bhakti-yoga. Krishna.com is a website project of the BBT. From 1966 through 1977, Srila Prabhupada translated more than 40 volumes of the great classics of Krishna conscious literature from Sanskrit into English, giving elaborate commentaries synthesizing the realizations of previous masters along with his own. These books include Bhagavad-gita As It Is, the definitive presentation of Lord Krishna's teachings, Srimad-Bhagavatam (Bhagavata Purana), the 18-volume history of Lord Krishna's incarnations, pastimes and devotees, and Sri Caitanya-caritamrita, the 9-volume biography and teachings of Sri Chaitanya Mahaprabhu. These books have been published by the BBT in more than 50 languages, with several million copies sold and distributed by members of ISKCON to people all over the world.
In 1973, the Bhaktivedanta Institute was formed to promote the teachings of the Vedas in scientific terms.
Since 1974, ISKCON Food for Life has run karma-free vegetarian food relief programs in disaster areas and cities around the world.
In November 1977, Srila Prabhupada passed from this world. By that time, ISKCON had established more than 108 temples, centers, schools, farm communities, with more than 10,000 initiated members.
In 1989, the Hare Krishna movement came out from the underground in the Soviet Union, as glasnost brought an end to persecution. By 1991, more than one million copies of Srila Prabhupada's Bhagavad-gita As It Is had been sold in the former Soviet Union.
In the early 1990s, various Internet projects were launched, including Krishna.com, ISKCON.com, and other Hare Krishna websites.
Today, ISKCON has about 500 centers around the world, with a worldwide congregation in the hundreds of thousands—from all walks of life.
Just as the sun is known by many names in different parts of the world, "ISKCON," "Krishna consciousness," and "Krishna" Himself are non-sectarian and non-denominational terms which refer to the worship of God, the Supreme Person. Anyone, anywhere can practice Krishna consciousness and become a "fan" or member of ISKCON. You do not need to change your religion to adopt the practices of Krishna consciousness—such as chanting God's names.
Although "Krishna consciousness" is culturally recognizable as coming from the Gaudiya Vaishnava tradition within (what's commonly known as) Hinduism, it refers to the eternal function of the soul, sanatana dharma. As such, it transcends the limitations of temporary material bodies and their associated designations.
Pure Teachers
The most important element in Bhakti yoga, or any genuine spiritual path, is to learn from a teacher who is pure. Pure teachers are rare, but we can learn how to recognize them and thus avoid being misguided. Such discretion is an important characteristic of progressive spiritual life.
Bhagavad-gita, Chapter Two, says that a pure teacher speaks exactly what God, Krishna, has taught, without change. He gives up all desire for personal gratification and wants only to please Krishna. He cannot give up, or be led away from, the Lord's service even for a moment.
A person who attains this exalted level of Bhakti receives direct guidance from Krishna and displays all the qualities of a pure devotee.
The pure teacher controls his senses, acts always in Krishna consciousness, and has firm faith that devotional service to Krishna fulfills all obligations and includes all other goals.
The pure devotee of God is a teacher by example because his behavior and teachings are in perfect harmony. Such a person is an enlightened teacher (acharya), an instrument for Krishna's work in the world.
To serve such a person is the path to enlightenment and liberation, and an absolute necessity for the proper execution of the Bhakti practice.
There are many enlightened teachers (acharyas) in the history of the Hare Krishna movement. Some of the more prominent ones are Sri Chaitanya Mahaprabhu, Bhaktivinoda Thakura, Bhaktisiddhanta Saraswati Thakura, and, in the latter part of the twentieth century, Srila Prabhupada, Srila Prabhupada spread Krishna consciousness worldwide and instructed his disciples to become pure teachers themselves by continuing this eternally living Bhakti tradition.
Holy Days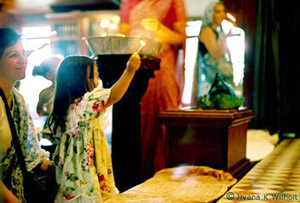 Followers of the Hare Krishna movement have an annual calendar filled with holy days, observed with much chanting of the holy names as well as other practices in line with the specific occasion. Srila Prabhupada once wrote to a disciple, "There are so many festivals that I can give you one for every day."
For some holy days, the great teachers of the Bhakti tradition have recommended fasting as an aid to fixing one's mind on Krishna and remembering the spiritual nature of the day. For instance, on Ekadashi, Krishna devotees abstain from eating beans and grains. For Janmashtami, Krishna's birthday, devotees fast until midnight.
Festivals often include special lectures and plays befitting the occasion, as well as grand feasts for Krishna and His devotees.
Observance of holy days is called "the mother of devotion" because it gives rise to Bhakti.
Here you'll notice terms like  "appearance" and "disappearance" rather than "birthday."  Krishna is eternal. He appears and disappears at will. He's not forced to take birth and die like the rest of us in the material world. Similarly, Krishna's devotees' "appearance" and "disappearance" days are occasions to remember their teachings and good example, not to celebrate the transitory birth and death of their material bodies.
Some of the most prominent holy days are:
Janmashtami, Krishna's appearance day
Gaura Purnima, Sri Chaitanya Mahaprabhu's appearance day
Appearance and disappearance days of Krishna's incarnations
Days celebrating certain activities Krishna performs, such as Govardhana Puja or Ratha-yatra
Appearance and disappearance days of pure devotees
Ekadashi, the 11th day of the waning and waxing moon, a day prescribed for increased hearing and chanting about Krishna
Vaishnava Calendar
We follow the lunar calendar. Dates vary by location. Use the drop-down menu located on the Vaishnava Calendar website to select the city nearest you for which you wish to see the Vaishnava calendar.
Ekadasi
Every fortnight we observe Ekadasi, a day of prayer and meditation. On this day we fast (or simplify our meals and abstain from grains and beans), and spend extra time reading the scriptures and chanting the auspicious Hare Krishna mantra.
Saints and Incarnations
To find out more about the many incarnations, saints and sages listed on our Vaishanva calendar, visit our page on saints & incarnations.
Krishna Art Wall Calendars (North America)
We carry a selection of beautiful Krishna Art wall calendars in our store. (North American versions only)
Holy Places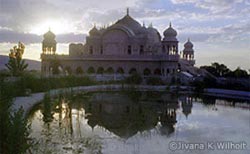 Any place directly connected to Krishna is spiritually identical to Him and is therefore an ideal place for practicing Bhakti yoga. There are many sites in India where Krishna, during various incarnations, performed activities for all to see. These places have special significance, and chief among them are Vrindavana (Uttar Pradesh), where Krishna Himself appeared, and Mayapur (West Bengal), where Chaitanya Mahaprabhu appeared.
The transcendental nature of these places greatly increases the power of the Bhakti practices performed there. Besides that, the atmosphere is surcharged with sights and sounds that invariably remind one of Krishna. And of utmost importance, in holy places, one gets the company of pure devotees who can awaken love for Krishna within us.
The most elevated devotees, such as the associates of Chaitanya Mahaprabhu, can perceive at holy places the activities of the Lord that are always being enacted on the spiritual plane.
Any temple of Lord Krishna, or any other place where He is the focus, is also a holy place. So if we cannot live in a place like Vrindavana or Mayapur, we should make our homes into holy places and regularly visit the Lord's temples—replicas of the spiritual world.
Followers around the World
Followers of Bhakti, also known as Bhaktas or Vaishnavas, are devotees of Krishna or His primary expansions, such as Rama or Narayana.
According to the 1996 Britannica Book of the Year, there are about 560 million Vaishnavas worldwide. Vaishnavism claims the largest number of followers among the various sects in India.
ISKCON, or the Hare Krishna movement, is an orthodox branch of Vaishnavism with nearly four hundred temples worldwide. In addition, ISKCON helps thousands of its congregation members conduct regular meetings in their homes.
Followers of Bhakti come from all walks of life, with varying degrees of commitment. The practices of Bhakti yoga are freely available to all.